COVID-19 vaccines currently are in shorter supply at Yuma District Hospital, following hassles with allocations between the state and the federal government.
Heath Horton, FNP, who heads up the vaccination effort at YDH, said the state had reported that all second doses were being reserved by the federal government. However, Horton said "that was found not be true as the federal government had not been holding any vaccine back."
That has resulted in the state now having to remove follow-up does out of each weekly allocation.
"This in turn will cause our weekly allocations of vaccine to be dramatically smaller," Horton told the Pioneer. "This week we were not allocated any vaccine."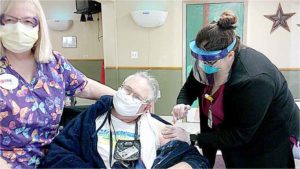 However, he said overall it has gone well and there has been a good response from the community. The hospital to date has been allocated 600 doses and all of them likely will be utilized by the end of this week.
People in the 70-and-older age group still are getting vaccinated. Horton said there still is a waiting list for that group, so if the hospital gets more doses, it will call those people and schedule them for their first dose.
However, on the call last Friday with the CDPHE it was mentioned that areas that have been doing a lot of the 70-plus age group might not get vaccine for a couple of weeks to let the rest of the state catch up to where the smaller communities are at. Horton said it was explained there were more people in the Phase 1A group — such as medical personnel and other frontline workers — in the larger towns, so they are further behind with the Phase 1B group, which includes the 70-plus demographic.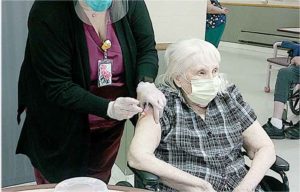 YDH will continue to get the second doses. The facility is using the Moderna vaccine, which requires a second dose 28 days after the first one. In fact, that is today, January 21, for those who received the first dose on Christmas Eve, the first day shots were done at YDH.
Educators are among those next in line to start receiving the vaccine (Phase 1C) but first Phase 1B needs to be completed — and that will be delayed until the hospital starts receiving more first doses again.
However, Horton said they are hoping to get more soon.
Anyone who wants to get the vaccine, no matter what "phase" they fall into, can register online at bit.ly/YDH_COVID-19-Form, or call 848-4712.